Aquabiking
What is Aquabiking?
A mix of water aerobics and indoor spinning
Specially designed bikes for the water activity and the water goes to your chest
45 min dynamic class performed in music and structured by a warm-up,an acceleration and a stretching phase
Exercises behind or out of the bike working both lower and upper body with special water equipments
Convenient for everyone whatever the age group or fitness level (fit, injured, pregnant, senior…)
Aquabiking
Duration
45 minutes
Activity Type
Cardio workout and muscle strengthening
Intensity
Calories Burnt
500-700

Kcal
Note : You do not need to know how to swim to exercise with us.
Benefits of Aquabiking
You will feel invigorated, energized and stress-free
You will shape your whole body and will get a quick slimming effect
An effective hydromassage will reduce dramatically cellulite
Less water retention and less heavy legs feeling
Thanks to the water buoyancy property, your body weight will be divided by 50%, which will reduce the risk of injury to your ligaments, muscles, tendons, and support around your joints
Thanks to the water cooling effect, you will reduce pressure on your heart and the discomfort of sweating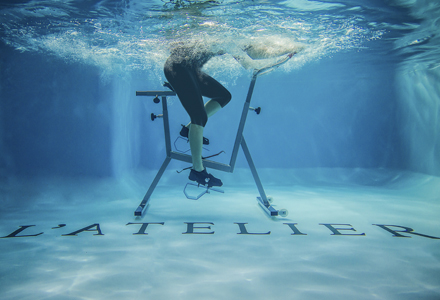 View more photos
Our Classes
REGULAR AQUABIKING – 45mins – All levels
A regular class is a 45 minute energizing and a rejuvenating low impact but high intensity workout. A combination of aqua aerobics and indoor spinning (underwater cycling). It is a full body work-out that helps you sculpt your arms, abs and legs at the same time. It offers a rigorous conditioning for your muscles that helps improve your cardiovascular endurance and strength.
CARDIO AQUABIKING – 45mins – Minimum 3 completed Regular classes
A cardio Aquabiking class is an intense 45 minute non-stop workout that gets your heart rate up which enables you to burn more calories and increases blood circulation throughout the body and strengthens heart muscles. Cardio aquabiking classes spotlights on defining your arms, legs and abs. When doing cardio aquabiking classes, it increases your whole metabolism. Advisable for those individuals who wants to lose weight more quickly and see faster results.
AQUATRAINING – 45mins – All levels
A Circuit training in the water, with a mix of Aquabiking, Aquajumping and Aquaboxing. During 45 minutes there is alternance between the 3 activities, making this workout a very fun but still very cardio and challenging. Very effective to shape the whole body.